Marrakech is for many the gateway to Morocco, captivates travelers and is enjoyed walking and immersing themselves in its magic.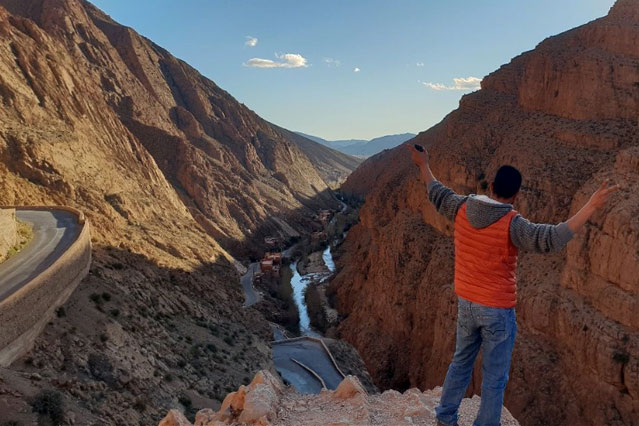 DAY 1 – Ait-Ben-Haddou – Ouarzazate – Dades Gorges
We'll pick you up in your Riad at 8:00 a.m. sharp and start our Sahara trip from Marrakech driving south to cross the High Atlas Mountains. You'll have time to take photos while you enjoy from the gorgeous views the landscape has to offer. We'll go through many Berber villages along the way until we reach the Kasbah Ait-Ben-Haddou. After exploring this UNESCO World Heritage site and a break for lunch we'll continue to the city of Ouarzazate, best known as the Gateway of the Desert. Once there you can visit the Atlas Studios, the Cinema Museum and if you want we can make another stop at the Taourirt Kasbah which is one of the most spectacular buildings in Morocco.
After leaving Ouarzazate behind we'll cross the Skoura Palm Grove until we reach the Valley of the Roses.
Atlas Studios visit during a 4-day Sahara trip from Marrakech to Fez
If you're lucky and visit in May you'll be able to see the amazing plantations and the famous Rose Festival. After some free time for a cup of coffee we head to Dades where you'll spend the first night surrounded by mountains and impressive natural rock formations.
DAY 2 – Todra – Merzouga – Desert Camp
After breakfast we'll head to a lookout where you can enjoy from an incomparable view of the Valley of Dades. Then we'll drive for approximately an hour until reach the Todra Gorges, a spectacular canyon which is the largest of its kind in the world. You will have free time to explore the place by yourself and can also do a short trek if you want. Afterwards we head to Touroug for lunch.
Shortly after leaving Touroug you'll notice how the scenery changes as we enter Merzouga. Once there your guide will leave you with a wilderness-expert who will lead your camel trek through the impressive Erg Chebbi Dunes. This afternoon is magical and you'll contemplate one of the most beautiful sunsets you'll ever see in your life. After watching the sunset in a high dune you'll continue by camel toward a gorgeous camp in the middle of the desert.
There a private nomad tent will be waiting for you. You'll have dinner and afterwards there's an authentic Berber party with drums, music and songs around a fire. And when all the lights go off we advise you to lie outside your tent for a while and to look up – there you'll find the magnificent Sahara sky.
DAY 3 – Erg Chebbi – Nomads – Khamlia – Merzouga
On the third day we encourage you to wake up early in the morning and catch the sunrise in the desert. Then you'll ride a camel again but this time to get back to Merzouga where we'll start the dunes adventure tour. We'll take the Paris-Dakar Rally road and head to abandoned mines of the black desert. Then if you want we can visit a Nomad family to share a cup of mint tea with them and learn a little of their culture and traditions.
Our next stop will be the town of Khamlia where its people will steal your heart with their sympathy and their spiritual Gnawa music.
locals playing spiritual Gnawa music in the town of Khamlia, near the sahara desert in Morocco
After lunch you'll have free time to relax and see the sunset in the nearby dunes. You can also use the afternoon to swim, drive in the dunes or do some sandboarding. Then we invite you to take a walk under the stars and enjoy of your last night in the Sahara desert.
DAY 4 – Ziz – Cedar Woods – Ifrane – Fez
After breakfast we'll leave the desert behind and drive north through the Tafilalet Palm Grove. After going through thousands of palms along the way we'll arrive to the Valley Of Ziz where we make a stop to take pictures and enjoy from the views.
We then head to Midelt, a town famous for its World Class Minerals. You can have lunch in here and rest a while before we continue our way to the Cedar Woods. We'll find some wild macaques in this place, but in reality they are not that wild anymore because they're very used to people so you can take pictures and feed the monkeys if you want. Our last programmed stop of the day is in Ifrane – also knowns as the "Little Moroccan Switzerland."
This is a gorgeous city with Swiss-type houses and beautiful gardens. After some time to relax and exploring the city we continue to Fez, where our services end and we say goodbye once we drop you off in your Riad.