Fes is a city in northeastern Morocco, often called the cultural capital of the country. It is known primarily for its walled medina Fes El Bali.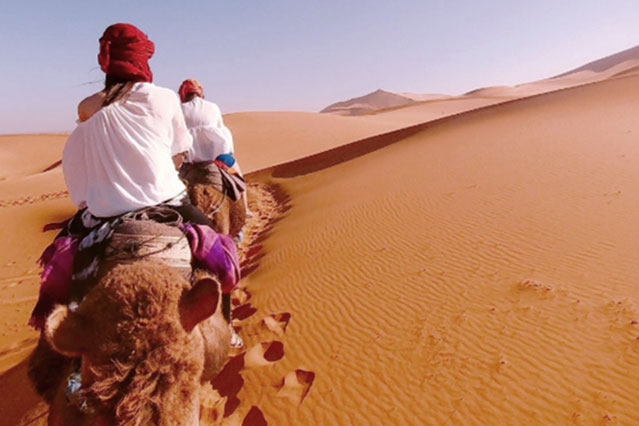 DAY 1– Ifrane – Cedar Woods – Merzouga – Berber Desert Camp
We'll pick you up in your Riad/Hotel at 8:00 a.m. and we'll head south crossing the Middle Atlas until we arrive at Ifrane, a city that will make you feel out of Morocco –as if suddenly you were taken away and left someplace in Europe. We'll take some pictures and walk around to explore town. Once you're ready we'll continue our way toward Cedar Woods, where you can interact with some funny monkeys that love to be fed! After saying goodbye to your new friends we'll go to Midelt for lunch and a short rest.
After lunch we'll cross the Valley of Ziz and its immense palm grove – one, if not the biggest palm oasis in the world. In here you'll start feeling the desert vibe as the scenery starts changing when we enter the city of Errachidia.
We'll stop along the way to take some pictures before we go to Merzouga where our wilderness expert will be waiting. Once you learn how to tie your Moroccan scarf you'll get on your camel and will cross the Sahara to catch a spectacular sunset on top of a high dune. Later on you'll head to your camp in the middle of the desert. After dinner you'll enjoy an authentic Berber spectacle with drums and nostalgic songs around a fire. And to culminate your perfect night in the desert all you have to do is relax and look up; there you'll find the most beautiful and starred sky you'll ever see in your life.


DAY 2 – Merzouga – Ziz – Midelt – Fes
On your second day we encourage you to wake up early in the morning and walk to the highest dune you find around camp. There you'll see how the sun rises and appears slowly in between two huge mountains. It's probably one of the most beautiful things you'll ever see, we promise it's worth it! After breakfast in camp you'll get back on your camel and ride back to Merzouga. Once we're in our 4X4 vehicle again we head north crossing the Tafilalet Palm Grove until we reach the Valley of Ziz. We'll stop in here for some pictures and to look at Aoufous town from a privileged spot. We'll then go to Midelt for lunch and rest for a while before continuing our way to the Cedar Woods and give the friendly monkeys another visit.
We'll say goodbye once we reach Fes and transfer you safely to your Riad/Hotel.