Like other Moroccan imperial cities, Marrakech is divided essentially into two parts: the center with the great Medina or old city and, outside the walls, the ville nouvelle or new city.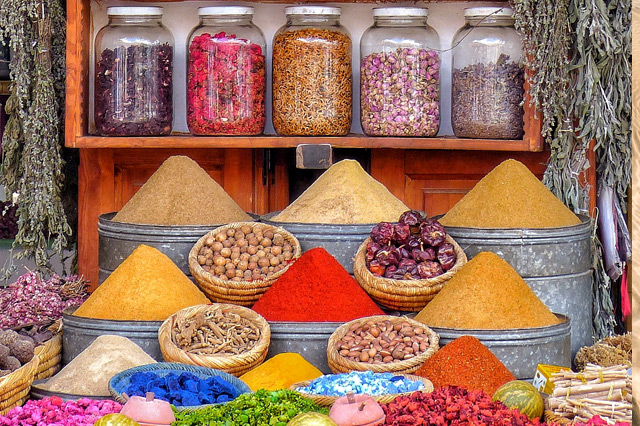 DAY 1 – Ait-Ben-Haddou – Ouarzazate – Dades Gorges
We meet in your Riad/Hotel in Marrakech at 8:00 a.m. and we drive through the imposing High Atlas Mountains making several stops along the way to enjoy from the beautiful views the landscape has to offer. As we continue we'll pass several Berber villages where you can take some nice pictures and we'll head south until we reach the Kasbah Ait-Ben-Haddou. After exploring this UNESCO World Heritage complex and a short break for lunch we'll continue to the Gateway of the Desert, Ouarzazate. In here you'll be able to visit the Atlas Studios and if we have time we can make another stop at the Taourirt Ksar which is another interesting fortified city.
We'll continue our way through the Skoura Palm Grove until we reach the Valley of the Roses.
If you're visiting on May you'll be able to see the amazing plantations and the famous Rose Festival. After some free time for a cup of coffee we'll head to Dades where we'll spend the first night.


DAY 2 – Todra – Merzouga – Desert Camp
After having breakfast at your hotel we'll head to a lookout and enjoy a wonderful view of the Valley of Dades. Then we'll make a couple more stops to take some pictures until we reach the Todra Gorges where the scenery is simply spectacular. You'll have free time to walk by yourself and interact with the local people before we head to Touroug for lunch.
Shortly after lunch you'll start feeling the desert vibe as we enter the amazing Merzouga Dunes. Your guide will leave you with a wilderness-expert who will lead your camel trek and will take you to the Erg Chebbi Dunes where you'll contemplate one of the most beautiful sunsets you'll see in your life.
Then you'll continue on your camel toward our camp in the middle of the desert where a comfortable Haima will be waiting for you. After dinner we'll spend some time listening to Berber songs around a fire and when all the lights go off you'll have time to lie under a magnificent starred sky.


DAY 3 – Erg Chebbi – Nomads – Khamlia – Merzouga
On the third day we encourage you to wake up early in the morning to be able to see the sun rising in between the mountains with a cup of mint tea. Then after breakfast you'll get back on your camel and ride to Merzouga where we'll start our exploration of the Erg Chebbi Dunes. We'll take the Paris-Dakar Rally road that will take us to the Tissardmin Oasis. In here you can pick up some fossils before we continue our way to visit the Nomad camps where you'll be able to enter a real Nomad tent and share a cup of mint tea with them as you learn some of their ways and traditions.
Our next stop will be the town of Khamlia where you'll spend a nice and interesting time listening to the Gnawa spiritual music.
After lunch in town we'll take you to your accommodation where you have a free afternoon to relax and see the sunset in the nearby dunes. After dinner is served in your hotel you can take a walk under the stars and enjoy your last moments in the Sahara desert.


DAY 4 – Ziz – Cedar Woods – Ifrane – Fez
After breakfast we'll start our journey going north to the Tafilalet Palm Grove. After seeing thousands of palms along the way we'll arrive at the Valley of Ziz where we make a stop to take pictures and enjoy the beautiful views.
Then we continue our way toward Midelt where you can have lunch and rest for a while. After lunch we'll go directly to the Cedar Woods where you'll be able to see and interact with some curious and cute monkeys. We then make a stop in Ifrane, a place that will certainly awaken your curiosity. Its gardens and Swiss-type houses will make you feel as if you were suddenly taken away from Morocco and transported someplace in Europe.
Ifrane is also called the Moroccan Switzerland and it even has its own ski resort! After a cup of coffee and time to wander around this wonderful city we continue our way to Fez, where we'll transfer you to your Hotel/Riad for dinner and a good night sleep.

rane, una ciudad que ciertamente despertará su curiosidad. Sus jardines y casas tipo suizas los harán sentir como si de repente los hubieran sacado de Marruecos y dejado en algún lugar de Europa.
Ifrane es conocida también como la Suiza marroquí y hasta tiene su propio resort para esquiar. Después de una taza de café y un tiempo libre para pasear un rato por esta bella ciudad continuaremos hacia Fez. Cena y descanso en su Riad/Hotel.
You'll have a delicious breakfast in your Riad/Hoteland then we'll start exploring the City through Bab Boujeloud, the famous Blue Gatethat will take us to TalaaKebeera – a huge street with souks, shops and crafts that will transport you to another time. We'll spend half day walking through the hidden corners of Fez's UNESCO World Heritage Medina. You'll be able to visit the MoulayIdriss Mausoleum, the Neijarine Fountains and the famous Tanneries among many other things.
After lunch we'll walk through the Mellah, the Jewish Quarter and you'll have chance to visit one of the few active Synagogues in Morocco.
We can also visit JardinJnanSbil where you can enjoy a peaceful moment surrounded by plants and a hidden lake. Our last visit in the afternoon will be to the famous ceramic factory where you'll have a beautiful panoramic view of the entire Medina of Fez. The end of the tour and our services will be once you're back in your Riad/Hotel.