Casablanca is a city port and is considered the economic and financial center of Morocco.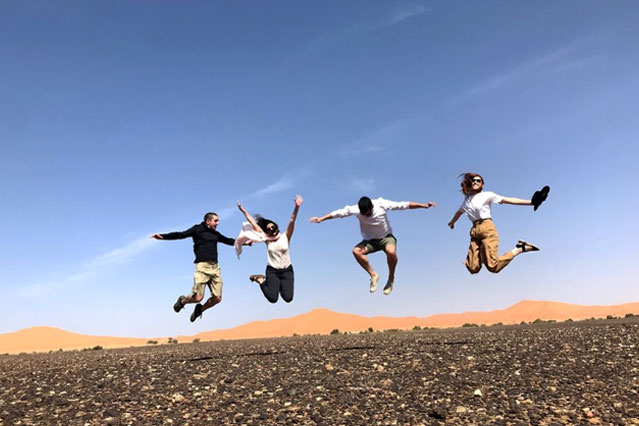 DAY 1 – Casablanca – Rabat
We'll pick you up in your Riad/Hotel and we'll visit Hassan II Mosque, which is the largest mosque outside the Mecca. Then we'll head to the country's capital Rabat and explore the Oudaya Kasbah and the Hassan Tower. We'll transfer you to your Riad/Hotel for dinner and rest.


DAY 2 – Volubilis – Meknes – Fes
After picking you up in your Riad/Hotel at 8:00 a.m. we'll head to Volubilis, an old and stunning UNESCO World Heritage Site that has preserved its archeological remains through the years. Places of interest include the Mosaics in the House of Ephebe, Hercules and the House of the Athlete, the baths, the Aqueduct, the Capitoline Temple, the Basilica, the Olive Presses, the Arch of Caracalla and the Lapidarium.
We'll then head to Meknes and have lunch in a restaurant close to Plaza el-Hedim and we'll wander around the city walls. Then we'll go the magnificent Bab Mansour Lalej and the Mausoleum of Mulay Ismail. You'll have time to discover the beautiful narrow streets, and to take pictures inside Old Town.
In the afternoon we can visit Cara, which is an interesting subterranean prison. You'll have dinner and spend the night in a Riad in Fes.


After breakfast in your Riad/Hotel we'll drive for about an hour and a half to Fez. As we arrive you'll have free time to relax for a while before we start exploring the City through Bab Boujeloud, the famous Blue Gate that will take us to TalaaKebeera – a huge street with souks and shops. We'llwalk through the hidden corners of Fez's UNESCO World Heritage Medina. You'll be able to visit the MoulayIdriss Mausoleum, the Neijarine Fountains and the famous Tanneries among many other things.
After lunch we'll go to the Jewish Quarter, JardinJnanSbiland our last visit on the afternoon will be to the famous ceramic factory where you'll have a beautiful panoramic view of the entire Medina of Fez. Lastly at night you can choose to have a quiet dinner in your Riad or to attend a Belly Dancer's entertainment show.


DAY 4 – Chefchaouen – Fes
We'll pick you up in your Riad/Hotel at 8:00 a.m. and we'll head to the enchanting blue city. After taking pictures in a strategic lookout we'll start exploring the majestic walls and gates, the medina and its natural water spring.
We'll be visiting the Kasbah Museum, the Grand Mosque which is famous for its octagonal minaret, Ras el-Ma that is the point in which the water that comes from the mountains trickles into town and then we'll head to Plaza Uta el-Hammam. Then you'll have time to explore on your own and to take beautiful pictures in the white and blue washed streets and to wander around Chefchaouen's souk. We'll go back to Fez in the afternoon for dinner and sleep in your Riad/Hotel.


DAY 5 –Ifrane – Cedar Woods – Merzouga – Berber Desert Camp
We'll pick you up at 8:00 a.m. and we'll head south to Ifrane. We'll take some pictures and walk around to explore town. Once you're ready we'll continue our way toward Cedar Woods and see the monkeys that surround the place before heading to Midelt for lunch.
After lunch we'll cross the Valley of Ziz and its immense palm grove. In here you'll start feeling the desert vibe as the scenery starts changing when we enter the city of Errachidia. We'll stop along the way to take some pictures before we go to Merzouga where our wilderness expert will be waiting. Once you learn how to tie your Moroccan scarf you'll get on your camel to cross the Sahara and catch a spectacular sunset on top of a high dune.
Then you'll head to your camp in the middle of the desert for dinner and rest. After dinner you'll enjoy an authentic Berber spectacle with drums and nostalgic songs around a fire. And to culminate your perfect night in the desert all you have to do is relax and look up; there you'll find the most beautiful and starred sky you'll ever see in your life.


DAY 6 – Erg Chebbi – Nomads – Khamlia – Merzouga
After watching a spectacular sunrise you'll have breakfast and will head back to Merzouga in your camel. There we'll start our exploration of the Erg Chebbi Dunes. We'll take the Paris-Dakar Rally road that will lead us to the Tissardmin Oasis. Then we'll continue our way to visit the Nomad camps where you'll be able to enter a real Nomad tent and share a cup of mint tea with them as you learn some of their ways and traditions.
Our next stop will be the town of Khamlia where you'll spend a nice and interesting time listening to the Gnawa spiritual music. After lunch in town we'll take you to your accommodation where you have a free afternoon to relax and see the sunset in the nearby dunes.


DAY 7 – Rissani – Todra – Dades Gorges
After breakfast in your hotel we'll get back on our 4X4 vehicle and we'll head to Rissani. If it's a Tuesday, Thursday or Sunday we'll also have the opportunity to walk around the huge souk. Then we'll move to Erfoud, where we can visit a fossilized marble factory.
We'll continue through the Touroug palm groves and then we'll reach the Todra Gorges – a stunning canyon that is very popular among rock limbers. You'll have lunch and the opportunity to walk around for a while and explore.
After lunch we'll head to the Valley of Dades where you'll take some of the best pictures of your whole trip. You'll be amazed with these natural rock formations called "Monkey Fingers," many people have a hard time believing they're for real! Dinner and sleep in your Riad/Hotel.


DAY 8 – Ouarzazate – Ait-Ben-Haddou – Marrakech
After breakfast we'll take you to a lookout where you'll have an amazing view of the entire Valley of Dades. We'll take the "Thousand Kasbahs Road" making stops along the way to appreciate the beautiful landscapes and the Valley of the Roses. After passing the Skoura Palm grove we'll stop in Ouarzazate and visit the Taourirt Kasbah. Then we'll continue our way to the UNESCO World Heritage Ksar Ait-Ben-Haddou. Lunch and free time in town.
After lunch we'll start our way to Marrakech crossing the High Atlas Mountains and the imposing Tizi n'Tichka. We'll make several stops to take pictures and we'll be arriving at Marrakech approximately at 6:00 p.m.


DAY 9 – Guided Visit Marrakech
On this day we'll explore the fascinating Red City together. You'll have the chance to visit many historical monuments and places of interest like the Koutoubia Menaret, the Saadian tombs, the Palace of Bahia and the Ben Youssef Koranic School. Around midday we'll walk through the beautiful alleys of the Medina and later we'll head to Jemaa El Fna Square. In here you can take pictures with monkeys and snake charmers, get a hand reading by one of the magicians or simply be entertained with the tooth-pullers. We'll then have lunch at a restaurant with view to the famous square before heading to the Majorelle Gardens for a relaxing and quiet time. In the afternoon we'll explore the new city of Marrakech called Gueliz and we highly recommend another visit to Jemaa El Fna after dinner.


We'll pick you up in your Riad/Hotel at 8:00 a.m. and we'll head to Essaouira, a charming city that rises over a rocky island surrounded by mountains, trees and fine sand dunes. Essaouira is famous for its natural reserve in Mogador Island and for its UNESCO World Heritage Medina. In here you'll have time to explore the medina, to visit the harbor and have a delicious lunch in the port while you enjoy from the welcoming hospitality of its people.
On our way back to Marrakech we can make a stop at a cooperative and see how Argan oil is produced while you share a cup of mint tea with the women who work there. We say goodbye once we arrive at Marrakech and we transfer you safely back at your Riad/Hotel.